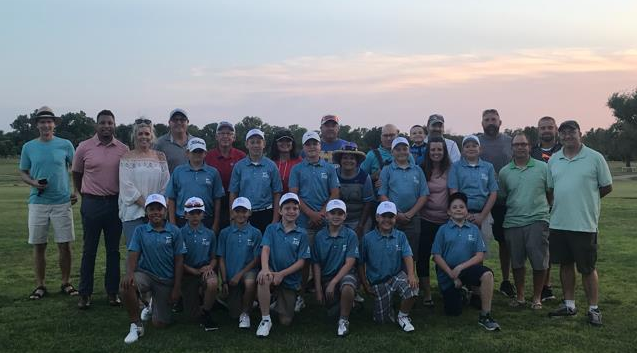 Fall is quickly approaching, cooler air making its way to Kansas and perfect golf weather is right around the corner. Say goodbye to heat and come enjoy your next round of golf at Carey Park. Carey Park Golf Course was awarded the "Best of the Best" golf course in Hutchinson for 2018 in The Hutchinson News Readers Choice Awards.
This past year the course underwent some major renovations to holes 2, 3, and 4. The course has recovered very well and is in great shape. With the overwhelming support, we will continue to move forward with future planned renovations. The next phase will start in early spring of 2020. Our Maintenance staff has done a great job this summer and will continue to push hard this fall. Mark your calendars, greens aerification is coming up swiftly and will be completed on September 10th and 11th .
We have been very busy out here this past summer and look forward to a great fall. As some of the leagues and Jr. Golf finish up for the year, we are proud to announce that our PGA Jr. League team had another undefeated season!! Four of the players from Carey Park's team were asked to join our Golf Professional Tyler Swensen to lead the All-Star team. The All-Stars were invited to play in Tulsa, Oklahoma on August 25th and 26th for the Section Championships.
Currently we want to welcome back our student athletes, including Hutchinson High School, Buhler High School, Hutch Community College and the Sterling College golf teams. We wish them all the best and look forward to watching them play this Fall. We recently committed to hosting Girls State Golf Tournaments over the next 4 years and are very excited for the opportunity to help grow the game of golf. During the past year we hosted several tournaments, including all three City Tournaments. The Hutchinson Golf Council does a great job working with everyone to put on these events. All three City Tournaments were dominated by Nick Hague. Nick won the City Stroke Play, City Match Play and teamed up with Jamie Scott in the City Two-Person Tournament. Congratulations to Nick Hague on an impressive year of golf!! If you didn't get a chance to play, not to worry as we have several upcoming tournaments to finish up the year. A few of them will include the Hazy Sunday for men 55+ (Sept. 30th), the annual Frozen Turkey (Oct. 21st) and the Girls City Junior. As many of you have heard, the City of Hutchinson will be having more budget cuts in 2019 that affect the golf course operation. To help us stay fully staffed, we have proposed an increase in rates to offset that amount. It has been over six years since our last increase and we are currently on the low side of the scale. A lot of research has been done in the surrounding areas and with the slight increase in rates, we will remain very competitive with our prices and make the additional revenue that City Council has asked for. On another note, school is back in session and several of our summer staff members have left to attend schools all over the country. Many of the positions are being filled with new friendly faces and we are sure you will enjoy having them help you with anything you might need while enjoying your golfing experience at Carey Park. While you are here don't forget to peek inside our pro shop; we have a wide variety of golf products and apparel on sale this fall.
It's always a great day at Carey Park and we look forward to seeing you soon!
Carey Park Staff